Bio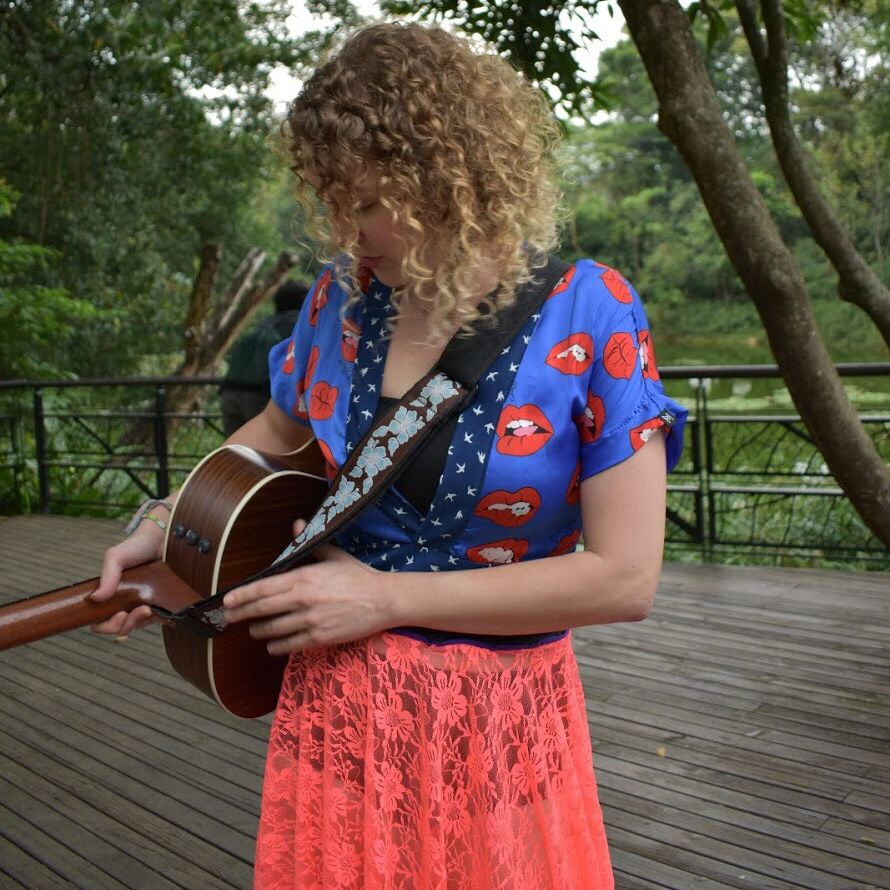 Driven by Experience
"making art is a process of wonderment driven by boundless expansion." --Guillaume Wolf "Prof. G"
Corrie Jones is a singer-songwriter currently living in Nashville, TN. Her music is a swell of vintage and nostalgic sounds whose centerpiece is a sensual and endearing voice. Her voice has the flexibility of blues and the brightness of high and lonesome bluegrass, making her voice both pleasing and powerful. As for her original music, she is creating a sound that is deeply rooted in the acoustic tradition of Americana yet has strength and exploration inspired by rock music, experimentation, and the natural world.
In 2022, she will be releasing  her first two singles that were recorded in Bogotá, Colombia and produced by Felipe Alvarez (Bomba Estéreo, Mitu, Soy Emilia, among others). She is working with top designers and video artists to bring her audience a complete musical and artistic experience. 
Corrie Jones grew up in a town around Boston, Massachusetts, in the United States but has family roots in the state of Alabama. Her music reflects some of that history. As she grew up, she went through many phases and obsessions: pop music, early Bonnie Raitt, musical theater, rock, bluegrass, and love affairs with the music of Alison Krauss, Johnny Cash and Hank Williams. She thought the only good real music in the world was 'natural' and acoustic. She only wanted to sing bluegrass and classic country.
Then she moved to Colombia, and her world, in almost every possible way, exploded and expanded. She began experiencing music in a whole new way. She (re)discovered the catchiness of pop, hip-hop and danceable music and started to understand the genius of pop music's mass appeal.
In 2013, while living in Colombia, she joined a band in Bogotá that had a short run in the city's music scene. The band's vision was to create original songs with a fusion of county music and latin rhythms that would bring the party to any venue. Corrie sang and performed with gusto, creating a dynamic stage persona.
In 2015, she caught a lucky break in meeting Felipe Schrieberg of the Blueswater, a powerhouse blues band in Edinburgh, Scotland, and he invited her to sing with them in the 2015 Fringe Festival. It was then that Corrie recorded her first EP of blues songs titled "Secrets I Keep" produced by Felipe Ortega and Juan Felipe Ochoa.
Fast forward a few years. Corrie found herself in Medellín, Colombia's second largest city. She started to play solo  and duo shows with an acoustic guitar strapped on and ready to represent both self-empowerment and vulnerability with her music and performances.
In June of 2018, she was invited to perform at the second annual Ibagué Blues Festival, which enabled her to connect with a new, eager audience. 
While in Colombia, Corrie recorded two songs with well-known indie producer and record label owner Felipe Alvarez (Polen Records). She then went on her first tour as a solo artist: "Como Fuego" ("Like a Fire" in Spanish), a tour ten shows in eight Colombian cities. She travelled by bus, taxi, motorcycle, and airplane to cross the county to bring good vibes to different types of venues. This amazing tour, which took her from Popayán in the Southwest to  Bucaramanga in the Northeast, and many places in between, ended up being an unexpected long goodbye to the country she had called home for eight years. 
In 2019, she decided to come back to the United States and made Nashville, Tennessee, her home. After a long wait for the pandemic to calm down, she is thrilled to be playing again. Her first single, "Like a Fire," will be released in Spring of 2022, and Corrie will be playing at songwriter nights and local shows around Nashville.
For now, listen to her first EP on her music page. Want to connect? Sign up for her newsletter below! You can also follow her on Instagram and Facebook  for more updates.
Photos by Mabel Tabares